Meet Hana, your Patient Hero for the Betty Irene Moore Children's Heart Center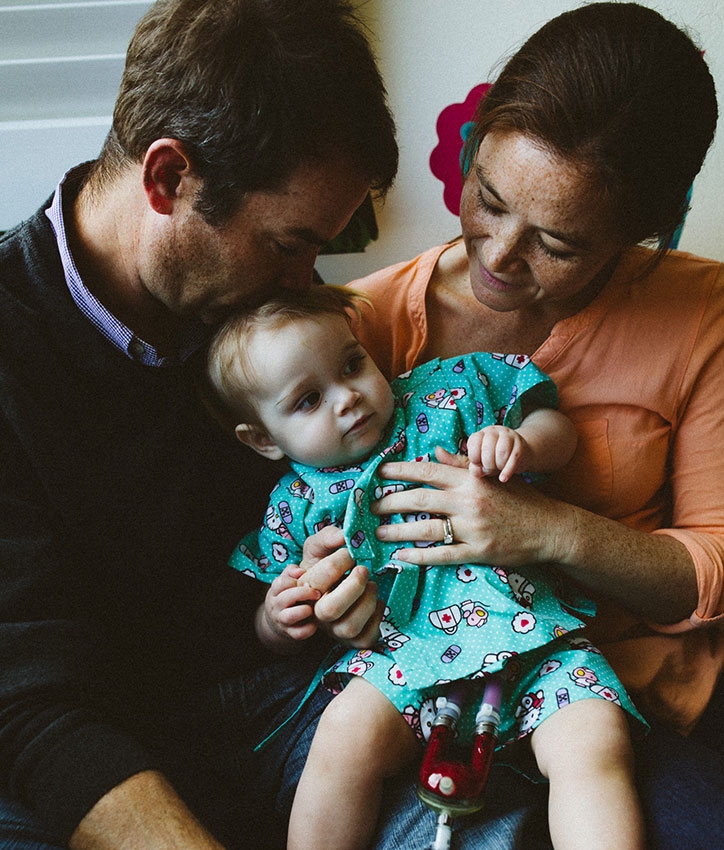 Around the time four-month-old Hana was celebrating her first Christmas, her cough began. At first it sounded like she was just clearing her throat. Over the next few weeks, her cough worsened to the point of gagging and even vomiting.
That's when her parents, Kathleen and Paul, knew that this was not normal—they needed to see a specialist.
This was Hana on Sunday, February 8, 2014, being her smiley, happy self.
This was Hana, two days later, looking more lethargic.
And this was Hana on Wednesday at UCSF Benioff Children's Hospital.
"My daughter seemed to decline rapidly. Her heart was in severe failure. They worked on her for hours, well into the night. Things looked bad and then worse and then the next morning they sat us down and told us our daughter would need a heart transplant," Hana's mom, Kathleen, recalls. "We were in shock—and reeling that a persistent cough had somehow led to her needing a heart transplant. After one day, our daughter was life-flighted here to Packard Children's."
Hana had an enlarged heart and her left ventricle was not pumping blood effectively. With medication and close monitoring, she was able to stay at home for nearly a year before being admitted again to the hospital. Finally though, Hana's lung collapsed from the weight of her heart, and she had to have open-heart surgery. She was placed on a Ventricular Assist Device, called the Berlin Heart, and her name was added to the heart transplant list.
Through all of the ups and downs, Kathleen credits the nurses and staff for their extraordinary care for Hana. Even the smallest things made the biggest difference for them.
"Jenny, one of Hana's nurses at the hospital, won the Daisy Award for her care of Hana! She made wraps for Hana's Berlin Heart dressing which we used instead of the ace wrap. It was better for Hana's skin, did a better job keeping things in place, was more convenient, and more comfortable," Kathleen says. "Jenny shopped for fabric, made a bunch of prototypes, and sewed a bunch of wraps for Hana in her free time. I was incredibly touched by her dedication and generosity. I think it was very rewarding for Jenny as well."
After six months of waiting, Hana finally got her new heart. But the fight for her health is still not over yet. Hana continues to receive treatment and care to ensure her new heart is functioning properly for her.
"The hardest thing is getting to know so many families with so many challenging, sad, or scary stories. It wreaks havoc on my heart. Then, when I take Hana's blood pressure, it is high, and I start to worry and my fear and mind go crazy about what might happen because I've heard it, seen it, lived it. Then, I remind myself of the truth: she is sitting on the bed and is cute and happy and I love her. That's all I know right now, so go with that and enjoy it."
Hana and her family are looking forward to starting their next chapter of life with her new heart, as well as her soon-to-be new baby sister—they are expecting a baby girl to arrive in May! From the bottom of our hearts, thank you for Scamper-ing to support kids like Hana who depend on the Betty Irene Moore Children's Heart Center.
Hana is #WhyWeScamper.
Register to Scamper and support care, comfort, and cure for more kids like Hana.